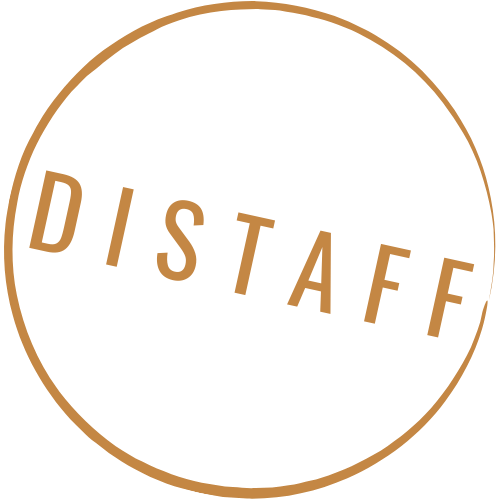 Distaff is the work and passion of women – a team consisting of our mom and sisters. We've all been behind the scenes in the many facets of the wine world for the majority of our lives and we want to share our story, our experiences and our passion for wine with you.
Since the 80's, before we can remember, our dad has been making wine, while both our mom and dad have owned and run wineries in the Pacific Northwest. Our earliest memories were in the vineyard and winery which eventually emerged into being a part of the day to day, working all the diverse jobs in the wine industry. We've done it all from pulling weeds, planting vines and sorting grapes to lab analysis, as well as running tasting rooms and marketing and selling wines.
When we tell people that we grew up on a vineyard and spent our summers working in the vineyard and winery, the usual response is something like "wow, what a dreamy childhood". They would be right but that dream came along with dirt, a lot of dirt. We would be covered at all times in a layer of dust from the vineyard and completely exhausted from early mornings and taxing physical work. It involved windy, freezing mornings, raw hands from planting, pruning, and picking grapes and sore limbs from long days. But when we look at the vineyard, we feel pride in what our work helped build. Now when we drink certain viratials, memories of working in the vineyard will pop into our minds. Malbec, for example, is that one dusty lot on the hill where we needed to watch out for rattlesnakes and that we needed to prune more often. The newer vintage of Cabernet Sauvignon brings back memories of the summer that we planted the whole hillside with new baby vines. Planting days started at 5AM in freezing 40 MPH winds and usually ended at 3PM at 95 degrees so those memories really stick with us!
We learned so much by simply observing the vines and fruit, from vintage to vintage, each year being unique. Between rainy Oregon and sunny Yakima, we recognized the dichotomy in soil and weather and learned how to accommodate those differences in the basic maintenance of the vines. Eventually we learned more in the wine cellar too. The grapes have to be "punched down" or stirred twice a day, they need to be sorted, pressed, and analyzed thoroughly in the lab – all very taxing but incredibly interesting. We learned about sugars and acids and what each individual grape and blend needed to create a balanced wine.
We also learned, of course, about tasting the wines. We learned that all those differences that we experienced in the vineyards each season, directly affected each vintage and made them all so unique. And we all often end up enjoying different wines based on taste as well personal experiences associated with those wines.
To us, wine was always familiar and fun, part of our life. But we soon realized that there is often a facade around the whole wine industry. People seemed to be more concerned about "wine etiquette" and awards. We often felt dictated to about how and why we should enjoy certain wines. The emphasis was less on creating a conversation and having fun figuring out what we liked and didn't like and more about stiff rules about wine and how it should be tasted. With this in mind, it makes sense that we've had countless groups of people say to us something along the lines of "We haven't gotten into wine yet because we don't know how yet". Wine tasting should be a subjective and personalized experience. Wine tasting should be fun. Wine tasting should be about learning and telling stories. You shouldn't need training or wine etiquette to wine taste and to know what you like. We want to converse and share what we know and hear what you have to share with us. We aren't here to dictate to you and we want to break the mold, drink good wine, and help anyone find a wine that they will love.
Cheers! Angelica, Brigid, Moira, and Me-Z O'Reilly.